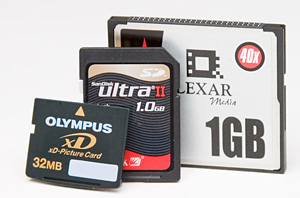 When on the go, erase, don't format your memory cards...
After you've safely uploaded your digital images to your computer or other device, what do you do with the memory card? Here are a few tips:
Don't use the computer's software to erase your memory card; always use the camera. That way your card will remain as compatible as possible with your digicam.
When you're on the go and haven't had time to back up all of your pictures, use the "erase all" function on your digital camera. This allows you to recover deleted pictures with recovery software in an emergency.
You only need to use the "format" function on your camera every few months. This reformats the card completely providing you with a "clean slate," but also prevents data recovery in an emergency.
One of my favorite data recovery programs is PhotoRescue. It's available both for Windows and Mac OS X. You can download a trial version, and if you like it, purchase for $29.
Update: 11-10-2005 11am PST: After the discussion below, I retested on a Canon Digital Rebel XT and learned that I recovered almost as many pictures after formatting as I did using "erase all." The conversation below sets the record straight. Please read it, since it is more valuable than the original piece I wrote. -Derrick Story
Technorati Tags: camera, photography